Visit one of the most beautiful archaeological zones in the state of Yucatán, which still preserves important decorative details in its constructions.
Currently, it is allowed to go up the buildings of Ek Balam and admire the beauty of the surrounding forest.
We suggest
First, visit the archaeological zone.
Climb to the top of the Acrópolis and contemplate the immensity of the area.
Afterward, head to the X'Canché cenote, either by bike or on foot along the trail.
Admire the beauty of the cenote and refresh yourself in its crystalline waters.
Have a delicious Yucatecan dish in the local restaurant.
Visit the city of Valladolid.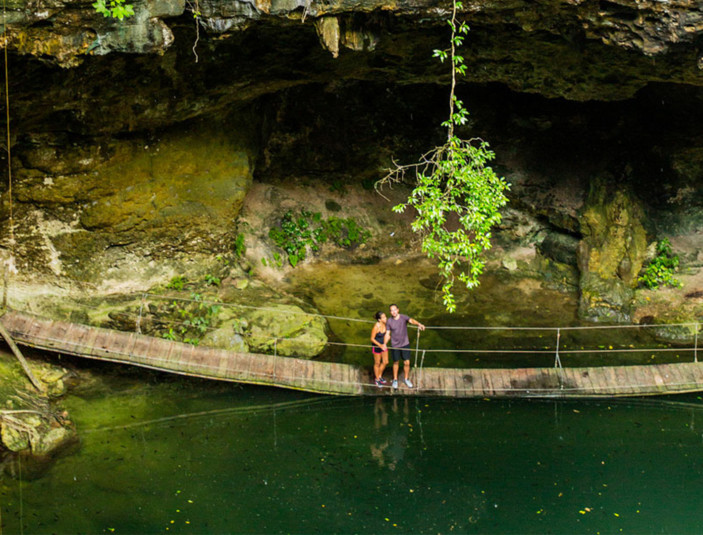 Cenote X'Canché
Important
If you contract the tour with a tour operator, you must bear in mind:
You will have a guide during the tour.
It includes food and drinks.
Tips are not included.
Recommendations
Wear comfortable clothes, carry a swimsuit and a towel.
Use insect repellent and biodegradable sunscreen.
Cover yourself from the sun, wear a hat or a cap.
Hydrate yourself constantly.
Bring cash for any unforeseen event.
Must-sees
Meet the Sacbé and the "Arco" at the entrance of the walled Mayan city.
Visit the Acrópolis and admire the jaguar's mouth, the winged warriors, and the murals.
Admire the X'Canché cenote.
Take Highway 180 Mérida - Cancún, detour to Valladolid and take the road to Ek Balam.
Take the bus to the city of Valladolid, and then take a cab to the archaeological zone of Ek Balam.