Close to the Magic Town of Valladolid, there is a route of beautiful cenotes and natural sanctuaries. Each of these spots is unique and charming, both by their natural formations and the outstanding attention from the hosts who will welcome you with open arms.
The cenote Sac Aua has a trail to walk or bike under the shade of the trees. At the end of the trail, there is a huge hole in the ground at the entrance to the cenote.
Xcanahaltun is admirable both for its crystalline waters and for the sun's rays that reflect inside it and enhance its natural beauty. The "Agua Dulce" and "Palomitas" cenotes have inner rock formations that make them extremely worthwhile for visiting and enjoying.
Besides, in this route you will find many other enjoyable options. Just a few blocks away from the downtown of Valladolid, you can admire the Cenote Zací, a semi-open cenote with colorful waters and beautiful species of birds living there.
In all of these cenotes, you will find regional foods that are made by the descendants of the pre-Hispanic Mayans.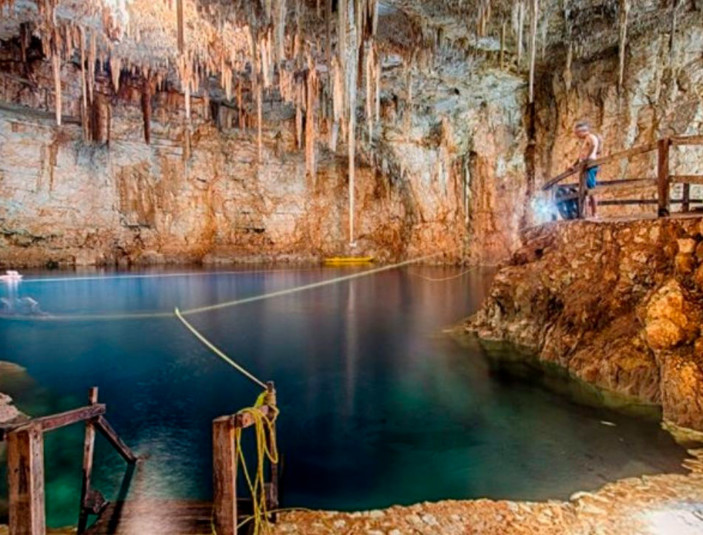 Cenote Palomita
The Cenote Samulá will strike you with its beauty, the water is completely crystalline so you will not miss any detail of all the fish that swim in its waters. It is only 20 minutes away from Valladolid.
At about the same distance from Valladolid, there is the Cenote X'kekén or Dzinup. Because of the varied depth of its waters, there are fascinating experiences suitable for all ages. Don't forget to use your life jacket to keep you afloat and safe at all times.
The Magic Town of Valladolid is an excellent starting point for visiting the tourist attractions of the regions "Capital Mundo Maya" and "Puerto May." Here, you will find all kinds of lodging services, one of the best gastronomies of Yucatán, and many other options.