If you want to feel the adrenaline and add some action to your vacation plans, "Grutas de Calcehtok" will be the right place to go. These caves are located in the municipality of Opichén, Yucatán. Near these caves, you can also visit the archaeological site of Oxkintok.
Its name means in Mayan: deer neck stone (cal, neck; ceh, deer; tok, stone or flint). The name Calcehtok was given by the locals due to a stone carved with the representation of a deer's neck, which was found in the place.
This tour is highly recommended for all those who like climbing and exploring underground paths given that the "Grutas de Calcehtok" have a very wide extension and there are various types of routes, for experts, beginners and advanced.
All the tour options cover the main places, only the level of difficulty of the paths change depending on the one you choose.
We strongly recommend you wear denim clothes and non-slip shoes (not sandals or bare feet) because the caves are quite slippery.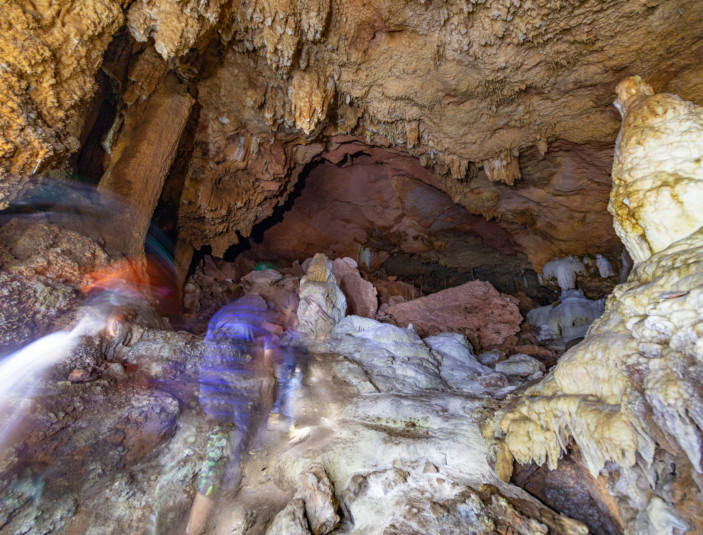 Grutas de Calcehtok
Keep in mind
The guides, expert connoisseurs of the caves, are the only authorized personnel to guide visitors inside the cave because it is easy to become disoriented and get lost inside. The cost of the tour also includes a headlamp so that you can have your hands free. At the end of the tour, there is water and soap available to wash your hands.
Do consider that the clothes you decide to wear could be torn and dirty at the end of the tour. You can also take water with you to avoid dehydration that is likely to happen inside the caves.
This route is not suitable for people who are afraid of narrow, dark, closed places, or afraid of bats.
There is no dangerous fauna inside the place, so it is considered to be quite safe.